Vegetarian Keema Matar | Minced Soya Masala, cooked in a hearty tomato onion gravy and flavored with whole spices.

Vegetarian Keema Matar was a regular occurrence on our dinner table growing up. On days we would crave keema but were restricted to vegetarianism (due to cultural or religious reasons), my mom would serve us this hearty dish that left us full and satisfied. Traditionally, keema is made with ground meat, some versions add potatoes, some versions add peas. Some add both. This vegetarian version is made with soya granules and mimics the texture and earthy flavors of it's meat version.
Recently my friend Swati invited us over for dinner and made her version of this dish. I was instantly transported back to childhood and reminded how my mom would make a big batch of this and use it as stuffing for
puff pastry
,
parathas
, pasta and more. This dish is also a great way to satisfy the meat and potatoes kind of person in your life, trust me, the texture and flavors of this dish will not disappoint.
Indian food, in my opinion, is one of the easiest ways to eat vegetarian. There are so many spices and so many ways of cooking meals. You'll never get bored. Every region of India has a different way of cooking the same dish. It truly is amazing. My version of this dish is the way my mom made it when we were growing up, with the onions and tomatoes caramalized and cooked down, breaking up the soya granules until finely minced and using a healthy dose of lime juice to finish off the dish.
Vegetarian Keema Matar | Minced Soya Masala
Vegetarian Keema Matar | minced soya masala cooked in a hearty tomato onion gravy and flavored with whole spices.
Ingredients
2 cups soya granules
2 cup onions, diced or thinly sliced
1 cup crushed tomatoes
½ cup diced fresh tomatoes
½ cup peas, blanched
1 tablespoon ginger garlic paste
1 large tej pata/bay leaf
6-7 whole peppercorns
1 teaspoon jeera/whole cumin
½ teaspoon jeera/cumin powder
½ teaspoon dhaniya/coriander powder
½ teaspoon haldi/turmeric
½ teaspoon red chili powder
½ teaspoon paprika or Kashmiri mirch powder
¼ teaspoon garam masala
2 tablespoon lemon juice
3 tablespoon cooking oil
2 teaspoon salt; adjust to taste
Method
Soak the soya granules in warm water for 10-15 minutes, until the texture becomes soft and porous. Drain from water and squeeze out any excess moisture. Set aside.
In a heavy bottom pan warm the oil on medium heat. Once hot, add the tej pata, whole jeera and peppercorns.
Once the whole spices start sputtering add the onions with a pinch of salt, cook down until soft and translucent.
Add the tomatoes, crushed and fresh along with the ginger garlic paste and lal mirch, Kashmiri mirch, haldi, jeera powder, and dhaniya powder.
Mix well and let the waters release for 2-3 minutes before adding in the soya granules.
Add the salt and mix ingredients while making sure the soya is blended. Break apart larger pieces with a wooden spoon or spatula if needed.
Cover and let cook on medium low for 20 minutes, occasionally stirring to ensure it doesn't burn.
Uncover, add blanched peas, lime juice and garam masala, cook for an additional five minutes before turning off heat.
Garnish with fresh dhaniya/cilantro, pickled onions and green chilis. Serve hot with roti, rice or in cabbage/lettuce cups.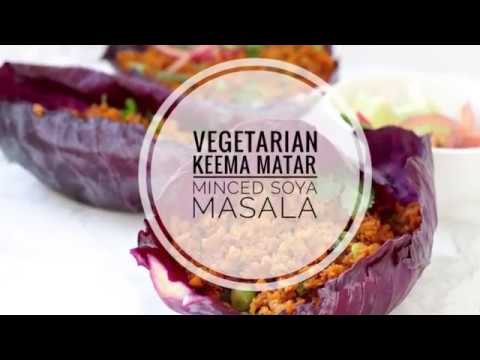 Enjoy!