"Keep your dreams alive. Understand to achieve anything requires faith and belief in yourself, vision, hard work, determination, and dedication. Remember all things are possible for those who believe." -Gail Devers
Dream… a little dream.
Last year, after we got married Hubby Darling and I started house hunting. We quickly realized how picky we both were. Closets were too small, kitchen layouts were too tight, houses weren't in the .25 mile radius that HD wanted to be in. Yup! You heard me right… a .25 mile radius! HD is a 100% city boy and I on the other hand from the suburbs, so when the topic of looking elsewhere came up HD's reply to me was "You want us to live in a village!? What will we do… I'll go crazy!." Obviously there was no budging there…
So after a few months of searching and deciding to stay in Jersey City, Hubby Darling and I decided to dream a little big (sometimes I get worried, a little too big!) and build our first home. We purchased a 130 + year old house in the Van Vorst Park neighborhood of Jersey City. It was the oldest (and ugliest) house on the newest and quaintest street. Our plan: demolish & build from scratch.
We closed on the house last summer and have been plugging through the long and intense process of permit approvals, architectural reviews, and city approvals ever since. Last week after months of waiting, we finally received approval for demolition.
This Tuesday was a monumental day for The Husband and I… for the first time it felt like we could see our dream coming true, one step at a time. This journey has already been a roller coaster ride and at this point we have just come to expect bumps in the road and hiccups along the way. It hasn't been easy but we always try and keep the big picture, end result in mind: our first home, designed and built by us.
When I stood in front of the empty lot after demolition I couldn't believe that three years ago HD and I had strolled along the very same side walk on our second date talking about the beautiful new houses coming up. I remember HD asking me if I would ever consider raising a family in an urban and upcoming city like Jersey City. I think back now and truly believe it was fate, we were meant to end up here.

As the construction progresses I will be posting updates about the house! For now, here are some pictures and a video from demo day.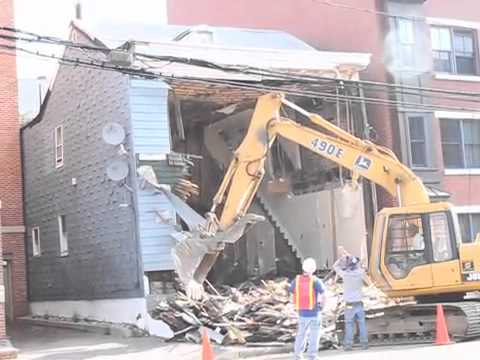 Enjoy!