"India is probably the best country in the world, both scenic and peaceful, it truly is god's country." -K. Bryant

How to make Kashmiri Rajma | Creamy Indian spiced kidney beans that taste like the dish you get at Vaishno Devi dhaba's.
Rajma, one of my all time favorite comfort foods! This dish served with rice is such a simple yet popular meal in most North Indian households. When I was younger, I remember my Dad and I would tell my mom to make us Rajma almost every week. Soft red kidney beans in a savory/spicy tomato and onion curry that I slow cook to ensure it tastes "just like my moms". However my favorite memory of this delicious dish is not at home, of a friends recipe, or even at a fine dining restaurant. The most incredible Rajma I have ever experienced was at a local dhaba  (street food vendor) on the foothills of the Himalayas.
Flashback to Summer of 99′. My parents had taken my brother and I to India for 2 months. Our usual and only stop in India was Bombay, but that summer was different… our parents wanted us to experience India as much as possible in two months. We were lucky enough to tour the beautiful beaches of Goa, drive-thru the lush acres of Khandala, see the spiritual sites of Shirdi, appreciate the city planning of Chandigarh, roam in the shopping districts of Delhi, and best of all, experience the serenity and beauty of Jammu and Kashmir.

We had gone to visit one of the highest temples in the world in Jammu and Kashmir (at the foothills of the Himalayas), which is at an altitude of 5,200 feet. After our pilgrimage, on our way out of the city, we stopped at a local dhaba to eat. The aroma of the fresh food and spices filled the crisp mountain air. Their specialty: Kashmiri Rajma.  As our food order came we began to relish the long red kidney bean curry. They seemed to just melt in our mouths with the perfect amount of spices. We enjoyed the Rajma so much that my mom actually bought a bag of the dried red kidney beans from the dhabe wala, food vendor himself.
Kashmiri Rajma come out best when you are able to soak the beans for at least 4-5 hours prior to cooking them. I usually soak them over night. Also, I usually make Kashmiri Rajma with dark red kidney beans; although I am sure this recipe would be just as good with the light pink kidney beans.
This recipe was originally posted in 2011. Since then it has been featured in BuzzFeed, Prevention Magazine and other publications. It also a won chef's choice award during a charity cookoff for Hurricane Sandy, hosted by Brooklyn Brewery. Pictures have since been updated.
Kashmiri Rajma is made a little differently in every household, some use onions some don't. My recipe is a mix of how my mom makes it along with some tips she got from the dhabe wala (street food vendor) where we happened to try the best Rajma we had ever experienced.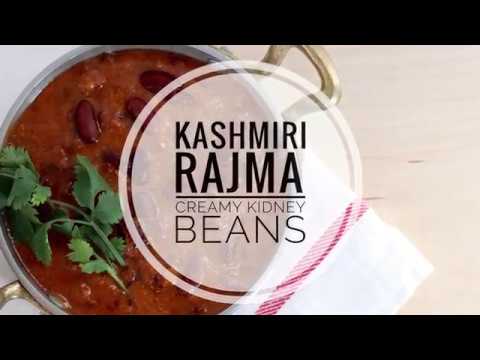 Enjoy!